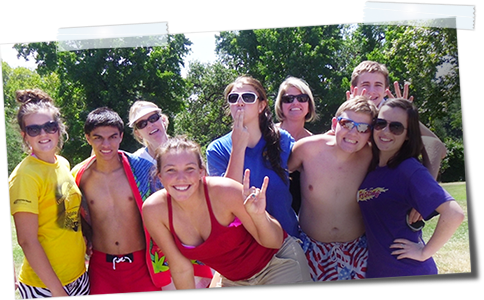 The acronym stands for Successful Living with Autism through Training and Education. SLATE is a program of Rowell Family Empowerment that serves families and children living with autism spectrum disorders (ASDs) ages 3 to 18. To be technical, it's a program designed to work with students, families, peer mentors, and community members throughout Shasta County. SLATE aims to improve self-regulation, problem solving, reasoning skills, and conflict resolution in children with ASD.
Get S.E.T. to Succeed!
The hallmark of SLATE is Get SET. Get SET (Get Social Emotional Training) is SLATE's summer program which provides an environment for children and young adults to learn and grow side-by-side with typical children. There is a nominal enrollment fee per child and monies go to cover facility costs, equipment rental, admission fees, and any other costs that are not covered by Far Northern Regional Center (FNRC). Get SET is the only inclusive summer program of its kind in Northern California for children with ASD.
LASTING

FRIENDSHIPS!
The program is designed to aide in the learning of social and emotional self-regulation skills that can be generalized in any and all settings. Get SET meets the many different skill levels of the children by carefully placing them in homogenous, small groups that best suit their needs and goals. This approach strengthens existing skills and puts the building blocks in place for those skills that have not yet developed. To do this we use a multitude of evidence-based practices to reach the children at their functional social/behavioral level. The program is systematically planned and developmentally appropriate according to the child's chronological age, developmental level, specific strengths and weaknesses.
The evidence based practices used throughout SLATE include:
Video modeling
Typical peer mentor participation
Role-playing
Facilitated interactions between your child with ASD and the typical peer mentors
To reinforce the learned skills visual supports such as workbooks are also utilized. A rotation through the 'Sensory room' helps the participants learn sensory regulation using occupational therapy based techniques. It's not unusual to see outcomes such as better focus, improved behavior, and even lowered anxiety and agitation.