RFENC is a parent-founded, parent-operated, non-profit organization, founded in 1995. All of our services are free to families of children with special needs, and are supported through grants, contracts, donations, and fundraising activities.
We are an Early Start Family Resource Center, serving families of infants and toddlers birth – 3 who have a diagnosed disability or who are at risk of developing a disability due to certain risk factors. We are a Family Empowerment Center that serves families with children ages 3-22. We have Parent Links Mentors who serve families with deaf and hard of hearing children! We offer parent-to-parent support and help parents, families, and children locate and use needed services.
All of our services

are free…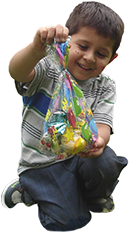 We help families obtain appropriate education and services for their children with diverse abilities; work to improve education results for all children; train and inform parents and professionals on a variety of topics; facilitate parent-professional collaborative activities; help resolve problems between families and schools or other agencies; and connect families of children with diverse abilities to community resources that address their needs.
Through our connection Family Voices we provide support to assist families of children with special health care needs. We help families access family centered, community based, culturally competent health care.
Successful Living with Autism through Training and Education (SLATE) is a summer program for children with autism spectrum disorder ages 3-18. It currently operates in Shasta County and is partially funded by Far Northern Regional Center.
We offer Respite Services to families who are consumers of Far Northern Regional Center.
All our services are provided in both English and Spanish and other languages upon request.
Our Namesake
In 1995, out of her frustration with unsuccessful attempts to seek services for her child with special needs, Debbie Rowell organized parents of other children with special needs and obtained funding to start the Exceptional Family Support, Education & Advocacy (Better known as the SEA Center) agency. Mrs. Rowell died unexpectedly in March of 2002 and out of respect and admiration for her courage and tenacity, and as a reminder of her goals, this organization has been renamed in her honor.