RFENC was parent-founded in 1995 as a parent-operated, non-profit organization. Parent-operated? To clarify; More than 50% of our Board of Directors are parents of children with diverse abilities and needs. Additionally, most of the staff at RFENC have children with special needs. All of our services are supported through grants, contracts, donations, and fundraising activities.
RFENC serves families with children ages birth-22 in 6 counties in Northern California. Our parent-to-parent support funding comes from:
California Department of Developmental Services (DDS)
California Department of Education, Special Programs Division.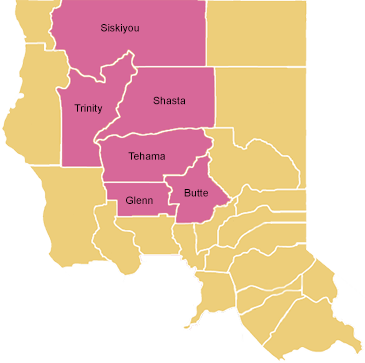 What Are We Funded to Do?
Help families obtain appropriate education and services for their children with diverse abilities
Work to improve education results for all children
Train and inform parents and professionals on a variety of topics
Facilitate parent-professional collaborative activities
Help resolve problems between families and schools or other agencies
Connect families of children with diverse abilities to community resources that address their needs
RFENC contracts with Far Northern Regional Center to offer Successful Living with Autism through Training and Education (SLATE.) Dr. Karen Crum founded this program and it is sustained through this contract, donations and fundraising.
Our Respite Program is also funded through a contract with Far Northern Regional Center.
You can read more about these programs by clicking on the tabs located on our home page.